A rebate for insulating your ceilings after a Home Energy Assessment!
Over 50% of your energy costs can come from home heating. Ceiling insulation helps keeps that money inside.
Improving ceiling insulation can also help you stay warmer in the winter and cooler in the summer, keeping your home comfortable, quiet, and energy efficient.
Ceilings are an important – and occasionally overlooked – part of residential insulation. Better insulation keeps heat from rising through your ceiling, and can potentially address issues like moisture in your attic, or ice-damming on your roof.

Get Started
Hear how a Nova Scotia woman completed energy efficient upgrades to a house for her 81 year old mother to [...]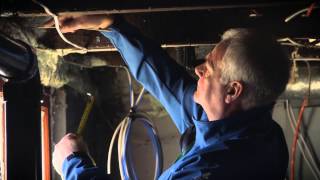 Read More

Q: Why must I leave my home for 24 hours after spray foam is installed? A: Spray polyurethane foam, commonly [...]
Read More