A rebate for solar water heating, available to eligible homeowners all year long!
Conventional heating can be costly.  We offer rebates or financing to help you equip your home with solar water heating – and save you up to 50% off your water heating bill.
A solar hot water system converts sunshine to heat energy and uses it to pre-heat your hot water. The system:
Significantly reduces the amount of electricity you need to heat water
Requires little maintenance
That translates into savings on your energy use, your money, and our environment.
To help with equipment and installation we can help with either:
Low interest financing (OAC) from $2,500 to $15,000 for up to five years can be obtained through our Home Energy Assessment program, or;
$1,000 Rebate
Rebates are available through either:
To find the product that's right for you, find a contractor through our Efficiency Partner Network.
There are two main types of solar water heating collectors:
Flat-plate collectors
Evacuated tube collector
| Flat Plate Collectors | Evacuated Tube Collectors |
| --- | --- |
| Built within a solid, sealed case and covered with tempered glass for protection from the elements; these type of collectors can be susceptible to heat losses on cold and windy days. | Composed of multiple glass tubes that are completely sealed within a vacuum. The vacuum that surrounds the outside of the tube reduces heat loss. Vacuum leakage can occur over their lifetime |
| Better suited to milder climates | Better suited to cold and cloudy climates |
| Better suited for low-temperature applications such as pool heating, domestic water heating and radiant floor space heating | Better suited for higher temperature applications such as space heating using hot water baseboard heaters and industrial process hot water or steam |
| Flat plate collectors can remain covered in snow during cloudy weather; however, when the sun comes out, the collector will warm up slightly creating a film of water between the glass and the snow. The snow will slide off due to gravity. | The gaps between the tubes may allow for snow to fall through the collector, minimizing the loss of production in some snowy conditions, though the lack of radiated heat from the tubes can also prevent effective shedding of accumulated snow |
| Must be installed as one solid unit. If a portion of the collector fails, the collector must be shut down and retrofitted or replaced | Can be carried in pieces for lighter, easier installation. If one tube is damaged, only that tube needs to be replaced |
| Less sensitive to overheating | The high temperatures that can occur may require special system design to prevent overheating. |
| Typically less expensive than evacuated tube collectors | Can be more expensive than flat plate collectors |
| Many Canadian and US manufacturers | No North American manufacturers at this time |
Notes:
There is ongoing debate about which collector is more efficient. Under specific circumstances, flat plate collectors outperform evacuated tube collectors and vice versa. Neither is "more efficient" than the other.
We recommend that you obtain two quotes before deciding on a system and contractor, however only one quote is required for pre-approval.
Hear how a Nova Scotia woman completed energy efficient upgrades to a house for her 81 year old mother to [...]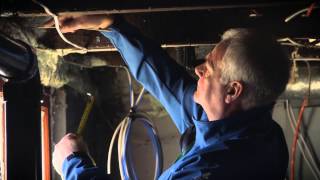 Read More

For New Home Construction See comparisons of  initial purchase and longer-term operating costs for various heating systems – including oil, heat [...]
Read More

Typical Space & Water Heating Costs Average single family residence (1,700 square feet, 4 people) Knowing your options will help [...]
Read More

Two thirds of Nova Scotians do not heat with electricity. Answer the questions below for energy saving tips to help you reduce your energy use and better understand your heating system.
Read More