A rebate for upgrading to ENERGY STAR windows after a Home Energy Assessment!
Energy efficient windows, doors and skylights keep your savings inside, keeping your home warm, quiet, and energy efficient.
Windows and doors can be responsible for up to 25% of heat loss in your home, so an upgrade can mean big savings.
Sign up for a Home Energy Assessment
To find the product that's right for you, find a contractor through our Efficiency Partner Network.
ENERGY STAR qualified windows, doors and skylights installed into a pre-existing rough opening in a wall or roof are eligible for rebates. Rebate amounts are calculated per rough opening, not per number of windows, doors or skylights. For example, a bay window with three window units installed into one rough opening is eligible for only one rebate. Inserting an ENERGY STAR qualified window unit into the existing frame of an old window qualifies for rebates. Replacing the glass, sash or door without a frame is not eligible for rebates.
ENERGY STAR qualified models meet or exceed the ENERGY STAR levels established for the climate zone where the model is installed. Each qualified model comes with a temporary label showing the appropriate ENERGY STAR climate zones. In Nova Scotia it is climate zone 2 (previously climate zone B). Wait to remove these labels until your final Home Energy Assessment is complete.
Hear how a Nova Scotia woman completed energy efficient upgrades to a house for her 81 year old mother to [...]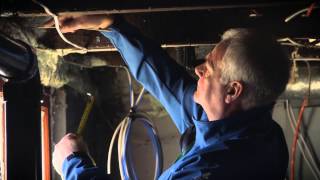 Read More